Partial Dentures in St. Catharines, Ontario
Verroche Denture Clinic provides partial dentures in St. Catharines that are specifically designed to replace one or several teeth. We have been serving the needs of our communities since 1981 in a comfortable and caring environment.
Looking after the appearance, fit and comfort of your dentures is our number one priority. Our team works with you to re-create your smile.
Please take a few minutes to read about our experienced team of denturists. They will be happy to walk you through everything you need to know about these dental accessories.
These replacement teeth are attached to gum colored or pink plastic bases. Depending on your individual needs, these partial dentures can have metal frameworks that include clasps connecting to your teeth. There are other connectors available including what are called precision attachments. These generally look more attractive than metal clasps.
Partial dentures in St. Catharines are more than cosmetic. They also enhance our patients' ability to chew and speak. They can also prevent your remaining teeth from shifting over time.
Some of the contributing factors to the need for these partial dentures include decay and injury. Here's what you can expect from these appliances.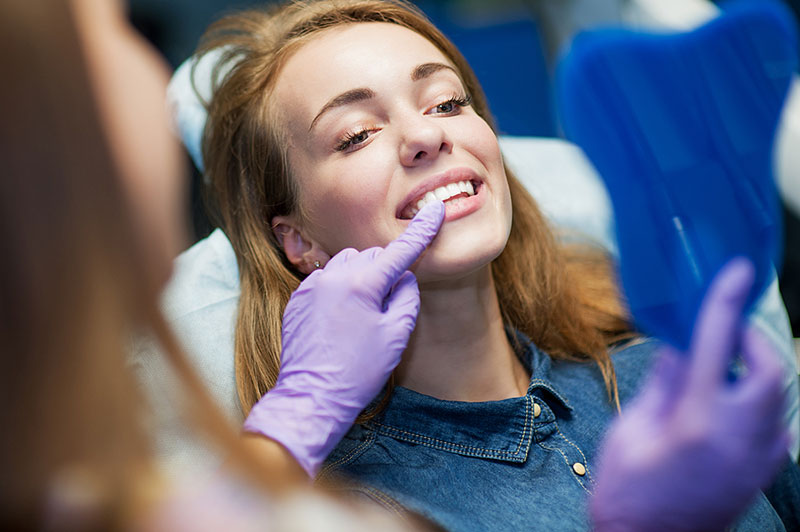 Getting Used To Partial Dentures
Practicing removing and inserting them is important.
We will supply specific instructions on how long you should wear these dentures and when and how to remove them
Eating should become much more enjoyable. Start with soft foods and cut everything into small portions. Chewing on both sides of your mouth will keep the pressure evenly distributed. During the adjustment period, it's best to stay away from gum and hard or sticky foods.
We can help you pick the right kind of partial dentures in St. Catharines. Our professional team will take several factors into account including your cosmetic goals and how many remaining teeth you have. How they align with each other is important too.
There's a few questions you'll need to ask yourself to get the best possible results. For example, you'll need to decide if people seeing metal clasps is going to be an issue. If you're missing teeth at the back of your mouth, this might not matter. Acrylic attachments could be a better choice if the partial dentures will be at the front.
Call us today at 905.937.6060 and we will help you with all the details for partial dentures in St. Catharines in Ontario.
"If you need the services of a denturist, do not hesitate to contact Verroche Denture Clinic. I am thrilled that I did. Paul and Jonathan Verroche gave me my confidence back. I have my smile back (and believe me, I smile all the time now), my dentures look great, and I feel great. When I first visited their office, I was very nervous not knowing what to expect, knowing that I had to do something as my teeth were terrible; I was always trying not to smile. They explained the procedures that would take place and put my mind at ease. I was very impressed with their expertise, competence, and dedication to their patients. I would definitely recommend them to anyone who is considering dentures. I am so very happy with the results — they are wonderful."
– H.P., St. Catharines, Ontario
"I was recommended to the Verroche Denture Clinic after much frustration with my dentist. I was having a lot of difficulty chewing causing me to choke often from trying to swallow partially chewed food. Being very self conscious about my smile which showed very worn and missing teeth, I decided to see the team at the Verroche Denture Clinic. I felt welcomed and confident on my first visit. The staff was very friendly and started on a plan for improving my bite and smile. Many options were discussed; medical consultations were suggested and within a very short time we all agreed on a treatment plan specially designed for me.I am now able to eat the foods that I had been missing for so long and the best part is that I can smile and eat with confidence. Thank you Verroche Team!"
– D.C., St. Catharines, Ontario