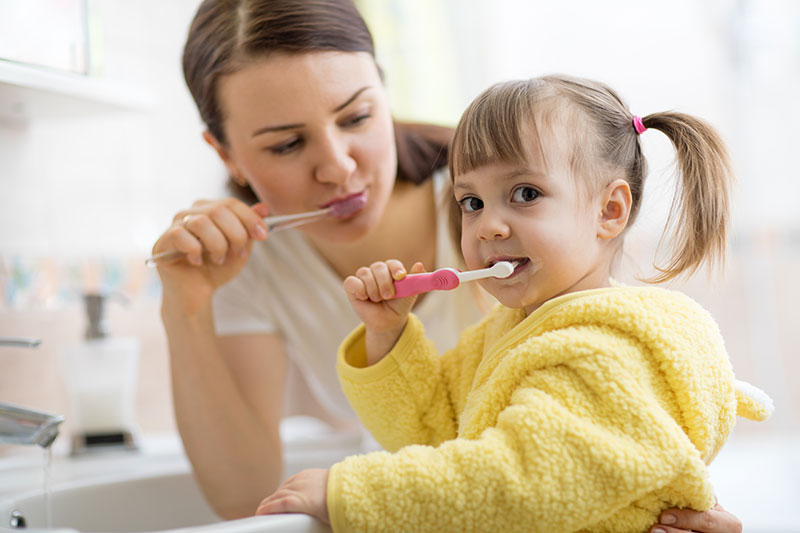 We carry related denture products in St Catharines because we want to supply all of your needs. Verroche Denture Clinic has a solid inventory. Plus, we offer up valuable information you can use.
Like the following tips and information on brushes for dentures.
It doesn't matter what kind of denture solution is used to clean them. A big part of keeping these replacement teeth scratch-free, clean and smooth is using the right brush. Here are a few benefits of using one of these specialty brushes over a regular one.
Good denture brushes have two heads instead of one. The flat one is used on convex smooth surfaces. The tapered head is the one that cleans harder-to-reach spots.
Denture brushes are designed to be easier to grip and control. They are also less tiring to use since they have ergonomic handle designs.
Remember, your dentures are going to be softer than your original teeth. They can scratch easily and that's why a denture brush has soft bristles.
Don't scrub too hard when you're using one of these brushes. Otherwise, you can groove the surface of your dentures. Following are a few more ways a denture brush is the right choice. 
How These Related Denture Products in St. Catharines Are Different
A toothbrush that's made specifically for dentures has several different functions. One of the biggest benefits is in the fact the soft bristles remove food particles without scratching. Keep in mind your dentures are typically made of porcelain or plastic. Either one of those materials can be scratched easily. Not only that, bacteria that isn't cleaned away and left for too long can cause gum inflammation.
A denture brush also has a unique shape that allows you to brush and clean inside the artificial gum section. That's a place where bacteria and food particles can gather.
A denture brush is one way that you can clean these appliances. There are several things that you can do to keep your replacement teeth in tip-top condition including rinsing them out after every meal. Keep an eye out for any changes in the way they fit.
Soaking them overnight can also kill 99.9% of the germs that you might need to battle otherwise.
Verroche Denture Clinic has an inventory of related denture products in St. Catharines that include brushes. If you've got questions, you can get in touch with us by phone or email. You can also drop us a line if you're having a denture emergency.